Our Counselors
All of our counselors at Sheltered Cove Counseling Center are licensed through the State of Georgia to provide confidential and professional counseling services.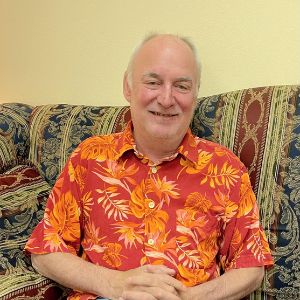 Joseph Adams
MS, LPC, Co-Founder
Joseph Adams is a Licensed Professional Counselor and has been in private practice since 1999. He received his master's degree in counseling from Georgia State University in 1995 and became a Licensed Professional Counselor in 1999. Mr. Adams has been the director of the Assertive Community Treatment Team in LaGrange, Georgia, where he worked intensively with severely impaired schizophrenics. He was also the Program Director at Laurel Heights Hospital in Atlanta, Georgia, an intensive residential treatment facility for children and adolescents. He left Laurel Heights in 2001 to open Sheltered Cove Counseling Center with his friend and business partner, Lisa Klinger, LPC.
Mr. Adams has experience working with a wide variety of people and issues. He enjoys working with children, adolescents and their families, as well as adults suffering from depression, anxiety, stress, obsessive-compulsive disorder, ADHD and personality disorders. Other areas of expertise include parenting and anger-management.
Mr. Adams believes that counseling is an active process that requires the client and the therapist to work together to achieve specific goals throughout the counseling process.
If you wish you can email Joe at josephadams@shelteredcovecounselingcenter.com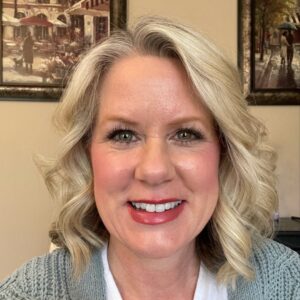 Lisa Klinger
MS, LPC, Co-Founder
Lisa Klinger is a Licensed Professional Counselor. She graduated from Oklahoma State University in 1993 with a Bachelor of Arts degree in Psychology. In 1995, she received a Master of Education in Community Counseling from the University of Central Oklahoma. Lisa has 27 years of clinical experience in a variety of settings. Lisa has worked for many years in both day treatment and hospital settings with mentally ill children and adolescents and their families. She has also worked in the state community counseling centers with chronically mental ill clients. Lisa is a co-founder of Sheltered Cove Counseling Center and has treated clients there since 2001.
Lisa has experience working with people of all ages in individual, family, and marital counseling. Her specific areas of expertise include depression/anxiety, low self-esteem/assertiveness, PTSD, grief, anger management, stress management, and relationship issues. Lisa approaches most therapy issues from a Mindfulness-Based Cognitive Therapy approach. Lisa believes that counseling involves an equal partnership between counselor and client in order to achieve the client's goals of counseling.
If you wish you can email Lisa at lisaklingertherapist@gmail.com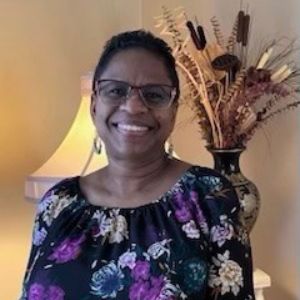 Shireen Hunte
LPC
Shireen is a Licensed Professional Counselor in the state of Georgia. Shireen graduated from Argosy University with a M.A. in Community Counseling.
Shireen works with a wide range of issues, including depression, anxiety, unresolved emotional issues, self-esteem/self-empowerment, grief and loss, relationship/family concerns, PTSD, anger management, behavioral disorders in children and adolescents, co-dependency issues, parenting, impulsive, obsessive and compulsive behaviors.
Shireen started her career providing mental health services to children, adolescents and adults in the community. Shireen's experiences have helped her to gain insight to how the family system revolves around mental health problems. Shireen utilizes a variety of orientations and therapies according to the client's individual needs which include Cognitive Behavioral, Person Centered and Solution Focused.
It is Shireen's goal to combine her range of experience with her ability to be a compassionate and enthusiastic therapist to assist clients and families in making positive changes in their lives through self-awareness, empowerment, coping strategies a developing a positive mindset.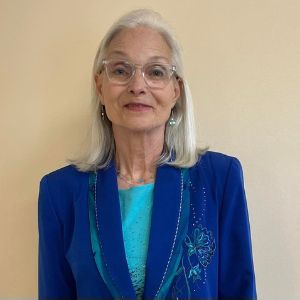 Marcia Smith
LPC
Marcia is a Licensed Professional Counselor (LPC) in the state of Georgia. She received her MED Counseling diploma in 2011 from Stephen College in Columbia, MO, where she pursued a dual track of study: Licensed Professional Counselor and Marriage Family Therapist. Her undergraduate Psychology Major studies were completed at Cincinnatti Christian University. She has experience working at an adolescent residential facility. Marcia has worked with children in stressful situations, dealing with adjustment issues (divorce, birth of a sibling, starting a new school, blended families). She has worked with issues of ADHD, grief, stress, anxiety, depression, anger management, family conflict, relationship problems, behavioral and impulsive issues, and with self-esteem issues. She works with children, adolescents, adults, and couples. Marcia utilizes various approaches. She uses Dr. John Gottman's evidenced-based material for couple and marriage help. She uses Cognitive Behavioral Therapy, which looks at thinking patterns that effect how one feels which, in turn, can effect how one acts and behaves. She helps to liberate the client from limiting and rigid beliefes from one's own self-talk.
Marcia is certified in Grief Recovery Method which sees grief as one of forty losses one may experience in life: loss of a pet, a friend moving, divorce, loss of a loved one, etc. She has also attended numerous trainings on the topic of trauma. 
Marcia assists clients in becoming their best self. Shel helps the client make positive changes and be mindful of balanced living. She has an interest in physical health as well as mental health.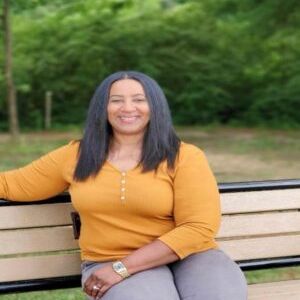 Syreeta Smith
LPC
Syreeta Smith started with a love of children and a heart to help others. Syreeta started her journey to help children as a volunteer at her children's' elementary school. She progressed from a volunteer, to a substitute teacher, and then moved into a student of Early Childhood Education at Mercer University. While working as a substitute teacher and a full-time student, Syreeta realized the limitations of helping students in a public-school setting. To help children, you must also help their parents. She then changed her major to Human Services with a concentration in Mental Health. Mrs. Smith went directly to Walden University to earn her master's degree in Clinical Mental Health Counseling to gain the opportunity to help the entire family. She passed the state licensing exam and submitted all her qualifications to be licensed by the state of Georgia to practice independently. She is currently working to gain a certification to be a Registered Play Therapist.
With the heart to help others, Syreeta is on the board of three charities, co-founded an organization that feeds the homeless of Atlanta, and works for an organization once a month that helps foster and adopted teens with team building skills and self-esteem. She enjoys educating children and their parents on parenting skills, mental health awareness, and overall quality of life.
Education & Credentials Licensure: State of Georgia, 2019 M.S., (Clinical Mental Health Counseling), Walden University, 2016 B.S., (Cum Laude), Mercer University, 2012
Community Organizations
ATEAM- Therapist/Mentor
Changing Hearts Foundation- CEO
Feed My Sheep- Co-founder
SLYC- CFO